This is the Strategic Commissioning Plan 2019-22 for Angus Health and Social Care Partnership (Angus HSCP). The plan shows how the Angus HSCP will continue to integrate health and social care Services and how we will encourage people to improve their health and wellbeing.
We believe that everyone has the right to live a long and healthy life and to be supported to live at home when it is safe to do so. We know that we cannot achieve this on our own. The biggest difference in health and social care in our communities will come from the things that we can do for ourselves by taking control of our own health and wellbeing. We know that Angus has great places to live and great communities. Together we can make a difference and be courageous by being open to doing things differently.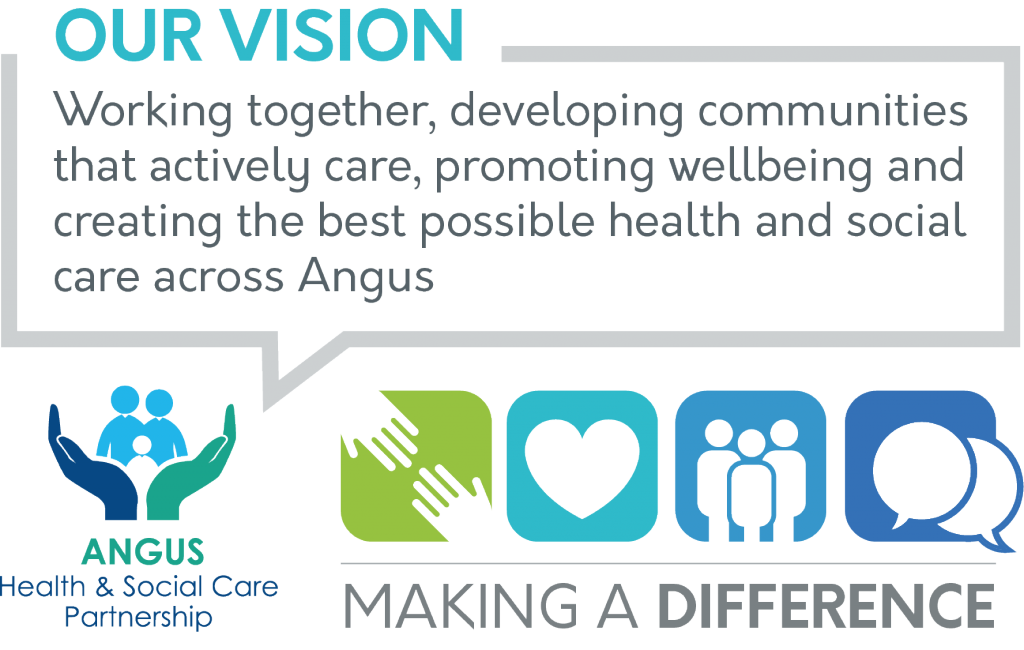 We know that the wider issues of poverty, housing and social isolation can have an impact on a person's health and wellbeing. The Angus HSCP will work through our Locality Improvement Groups and alongside Angus Community Planning Partnership to address these issues. This Strategic Commissioning Plan aligned to NHS Tayside's plans for Transforming Tayside, the Tayside Plan for Children, Young People and Families to deliver health and social care support for all our community.
Information to date, published in our annual report, suggests that we are already doing well. More than 90% of older people's care is delivered in our communities but there is still more to be done to achieve this for the whole adult population and for families. Hospital admission rates for people over 75 are declining as we support more people at home. Admission rates for people aged 50-74 are increasing as more people have long term conditions. We have already delivered good work in relation to self-management of long term conditions but as we learn more about reducing admissions for people aged 50-74 with Chronic Obstructive Pulmonary Disease (COPD), diabetes and asthma we can continue to improve services in our communities. This is an example of prevention that needs us to work together to do something different. By 2022 Angus HSCP aim to further improve health and social care.
This Strategic Commissioning Plan sets out the vision and future direction of, health and social care services in Angus and how those services are funded. It reflects the work that is already underway and looks at areas where we still need to improve. This plan is not a list of every action that Angus HSCP will take in the next three years. The detail of these smaller steps will be developed in conversation with the public and providers living and working in the four localities of Angus. Whilst we want to be ambitious with our plans we know what we need to be realistic about what can be achieved with the resources available to us. We believe this plans sets out that ambition and that realism.
To continue reading the Strategic Commissioning Plan 2019 – 2022 you can download the whole document from here.